Our Staff
Our highly skilled doctors look forward to helping you! 
Dr. Karapetian joined the practice in 2015, practicing in Racine prior to joining SouthEast Eye Physicians & Surgeons. After working with former owner Dr. V. Stephen Slana for nearly a decade, Dr. Karapetian has taken over the practice following Dr. Slana's retirement. Read More via Kenosha News.
---
Dr. Raffi Karapetian, D.O.

Patient Care Emphasis:

Dr. Karapetian completed his ophthalmology residency at Oklahoma State University in Tulsa, OK. His high volume of surgical training had a strong emphasis on cataract surgery. He was practicing in Racine for the past few years, but relocated in Spring 2015 to join our practice. He has a desire to work in partnership with his patients to ensure compassionate, high quality medical and surgical eye care using the latest modern technology.

Surgical Interests:

Cataract surgery (standard and complex)
Eyelid tumor excisions
Blepharospasm/Hemifacial Spasms- Botox treatment

Dr. Karapetian is an Osteopathic physician, also known as a D.O. The osteopathic philosophy focuses on the unity of all body parts, identifying the musculoskeletal system as a key element of health. DOs take a "whole person" approach to medicine. They receive extra training in the neuro-muscular and musculoskeletal systems and osteopathic manipulative treatment, a practice in which osteopathic physicians use their hands both to encourage the body's natural tendency toward good health and to diagnose illness and injury. DOs today practice and are licensed in every specialty field of medicine. Osteopathic medicine provides all of the benefits of modern medicine including prescription drugs, surgery, and the use of technology to diagnose disease and evaluate injury.

Aside from ophthalmology, Dr. Karapetian enjoys spending time with his wife and kids, exercising (swimming, biking, running, cross-country skiing), photography, and playing golf.
Education/Training:
Medical School : Lake Erie College of Osteopathic Medicine (Erie, PA)
Internship : St. John Macomb-Oakland Hospital/Michigan State U. (Macomb, MI)
Residency : Oklahoma State University (Tulsa, OK)
Additional Courses : Stanford University Basic Science Course in Ophthalmology (Palo Alto, CA)
Medical Missions : Piura, Peru (2012), SebanaYegua, Dominican Republic (2014)
Society Memberships:
American Academy of Ophthalmology
American Osteopathic Association
American Osteopathic Colleges of Ophthalmology and Otolaryngology
American Society of Cataract and Refractive Surgery
Christian Eye Network
---
 

Dr. Matthew Littel, O.D.

Dr. Littel grew up in Kenosha and graduated from the University of Wisconsin - Platteville. He then completed his optometry training at the Illinois College of Optometry in Chicago, IL in 2018. During his final year, Dr. Littel had clinical rotations where he traveled to Wayne State University, the Illinois Eye Institute, and the Great Lakes Naval Base & VA Hospital where he performed medical and vision exams on a wide range of patients of all ages and demographics.

After graduating, he began practicing at In Focus Eyecare in Kenosha where his desire to work with patients to achieve the best possible outcome in their vision and health led him into a more medical based practice.

During his time off, Dr. Littel and his wife, Elena, enjoy spending time hiking with their dog and eating local cuisine. They strive to better the Kenosha community by volunteering with various initiatives and are active members of Living Light Christian Church.
---
Front Desk & Check Out
At SouthEast Eye, our longest serving employees will welcome you at the front desk upon arrival and at check out. They communicate in a courteous and professional manner with a "patient first" approach to your care. Having your insurance card and photo ID will help ensure your appointment will start well.
---
Technicians / Diagnostic Support Staff / Scribe
At SouthEast Eye, our staff are very diverse and desire to serve our patients with excellence and respect. Our staff have been trained on-the-job and are continually educated by the doctors. They will perform eye-related clinical tasks for the exam and prepare you to be seen by the doctor.
Clinical tasks may include:
Taking medical histories
Providing instructions about medications, tests, and procedures
Performing vision and diagnostic tests
Assisting with in office procedures
It is our goal for you to have the smoothest exam when the doctor arrives for the full medical portion of your eye exam.
---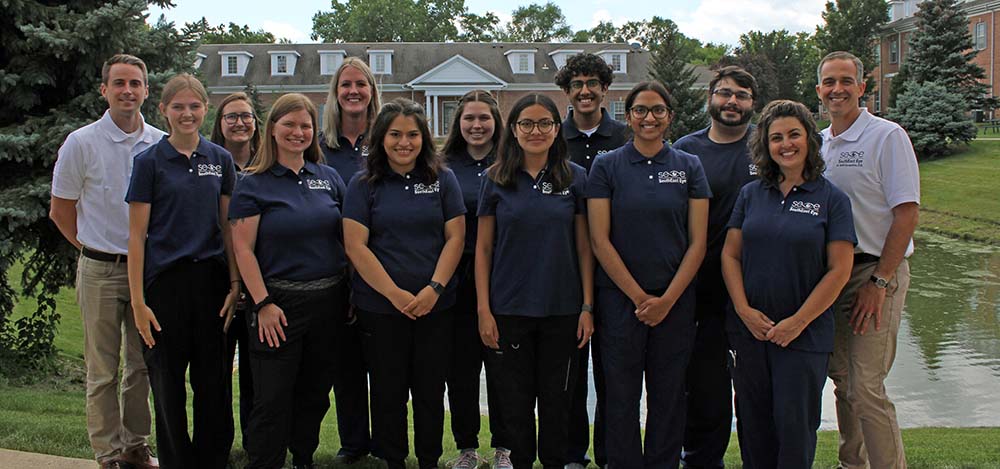 ---
Billing
At SouthEast Eye, we are fortunate to have a billing liaison. This individual will help you with billing questions and even assist in running an on-line credit card payment.
---
Students
At SouthEast Eye, we are always interested in investing in the medical education of our community students. We have been fortunate to integrate students into our practice as either the Ophthalmic Technician role or Ophthalmic Scribe role. These opportunities give pre-health students hands-on experience while developing excellent patient-clinician communication skills.